Alex TLC's Bungee Challenge
Consider yourself an adrenaline junkie? Then get stuck into this amazing bungee jumping experience, whilst raising funds for Alex TLC! Take a deep breath, close your eyes and take the leap of a lifetime as you fall towards the ground below. You'll feel the wind rush past your face as you get closer and closer to the ground, before being suddenly pulled back up by the bungee rope, ready for another spine-tingling drop. All we need from you is a £20 registration fee and minimum fundraising target of £150.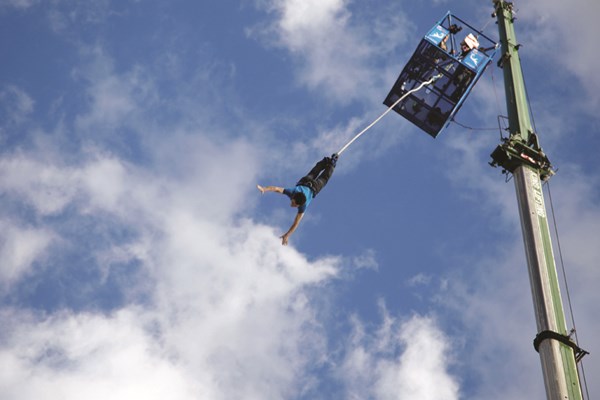 Information and Restrictions
You must be over 14 years old to bungee. 14 and 16 year olds require a parent or guardians permission and signature There are two Bungee Cranes and 120 different jump dates from various locations across the UK throughout the year. If you suffer from the following conditions you can not jump: high blood pressure, heart condition, dizziness, epilepsy, pregnancy, asthma, neurological conditions, diabetes. If you suffer from the following you should seek medical advice and provide a certificate before you jump: damage to neck, back, ankles or eyes. Please inform the operator if you are taking any medication. Please dress according to the weather as there may be no shelter. Maximum weight is 120kg.
If you would like any further information or have any questions, please get in touch with our Fundraising Assistant, Fiona, by emailing fiona@alextlc.org.